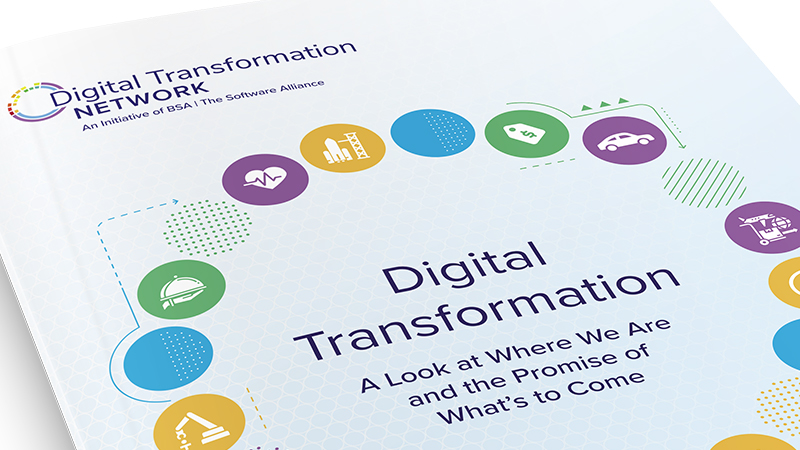 Download Report
Digital Transformation
A Look at Where We Are and the Promise of What's to Come
Vast improvements in software tools, the incredible power of cloud computing, and the widespread growth of connected devices promise to remake every industry and how business gets done all around the world.
Manufacturers will revolutionize how their goods are designed and made with digital twins and just-in-time production; suppliers and distributors will retool the way those same goods are ordered and delivered with cleaner data and sharper analytics; and merchants will change how goods are bought and sold with VR store displays and more engaging sales materials.
And these new digital tools won't just make businesses more efficient and better for the economy. Digital transformation can make companies better corporate citizens—by helping drive global sustainability goals, growing the workforce, and helping expand inclusive economic growth.
Read More
Key Terms
Digitization
Transforming analog information into digital form, such as converting handwritten notes into computerized files
Digitalization
The use of computer technology and digitized information to update or improve existing tasks, such as email replacing paper communications
Digital Transformation
Applying digital tools across an organization in a way that creates a wide range of improved outcomes—new insights, new business models—by connecting previously separate processes
Where Is This Happening?
Examples of the potential for digital transformation are as wide-ranging as its potential. Consider, for example, how integrated software solutions and new technologies will transform just a few industrial sectors:

Retail
Software solutions will transform the shopping experience for both online and brick-andmortar operations. In-store shoppers can expect AR and VR offerings that create a more engaging and interactive environment, and other tools will provide more convenient customer service operations. Online, new tools will create seamless customer experiences tailored to specific customers.

Healthcare
Healthcare providers will use various digital solutions to create patient-centric and valuebased outcomes that both improve care and reduce costs. Virtual doctor visits and networked electronic medical records are just two modes of digitalization that are transforming healthcare. Pharmaceutical and healthcare companies such as Abbott and Amgen will use digital tools to quickly develop new therapies and to deliver new services to patients.

Manufacturing
The Industrial Internet of Things helps companies improve production by reducing downtime and wasting less material while still ensuring high-quality goods. Predictive maintenance and other process upgrades will improve worker efficiency and increase profits. AR solutions can enable advance training and allow for collaboration across widespread operations.

Smart Cities
Mixing physical infrastructure like roads, bridges, and buildings with cutting-edge digital technologies will ensure safer communities and improve citizens' quality of life. From utility monitoring to public safety to environmental sustainability, technologies such as sensors, AI, and video analytics are helping the public sector transform the way it provides essential services to achieve... greater efficiency, lower costs, and a higher level of citizen engagement. Already, smarter vehicles are driving the need for smarter roads, and the push for self-driving vehicles will have automakers like General Motors innovating like software companies that just happen to sell hardware that comes on four wheels. Read more >>
Download Report
About the Digital Transformation Network
The Digital Transformation Network (DTN), an initiative of BSA | The Software Alliance, brings together cross-sector business and technology leaders for constructive dialogue and information exchange in the areas of government regulation, public policy, and impacts to society associated with software-enabled digital transformation. Charter subscribers represent market leaders experiencing digital transformation across advanced manufacturing, automotive, consumer goods, energy, financial services, healthcare, retail, media, and telecommunications industries.